As we're near the end of the year, it's natural to start making New Year's resolutions. Chances are, you're also trying to make plans and set goals for the next couple of months. 
What about your career as a project manager? Is there anything you'd like to do next year to accomplish more or to improve your performance?
Several PMs agreed to share their resolutions with us. 
1. Alleviate risks and problems before they materialize
As project manager, you may very often be the bearer of bad news, both for your team and your clients. It sure can be uncomfortable, therefore it's natural to try to avoid situations like these.
"Such avoidance can sometimes be a successful strategy; however, most of the time it is much more effective to face up potentially problematic situations early on, before they become real threats or hindrances" – Aleksandra Leończyk, teamdeck's Product Manager, accurately points out. "In 2018, I would like to focus on being more proactive and try to alleviate risks and problems before they materialize."
So, how can you improve your problem solving skills? Here's her view on the issue:
"I want to actively fight these temptations and foster my problem-solving attitude as well as encourage my teams to openly discuss their concerns with me and offer suggestions.
After all, analyzing risks, communicating them in a timely and constructive manner, removing impediments and embracing change, are key to the success of any project or venture.
Summing up, my ambition this year is to acknowledge and address possible risks and problems as early as I can."
2. Create proper documentation
You may love it or hate it, but providing accurate project documentation is a must for project managers. "While working in fast-paced environment, this important element is often overlooked or neglected" – says Jakub Stachowiak, Project Manager at Apptension. "I intend to collect a list of good practices regarding both: the content of project documents and their organization."
The problem is, how to describe an "proper" documentation? Find the middle ground between what is required, what is useful and what can be kept up to date.
"Good (which certainly doesn't mean "extensive") documentation can facilitate the work of developers, improve communication with the client and certainly bring us closer to the success of the project" – Jakub Stachowiak adds.
3. Focus on leadership
Ben Aston, the founder of The Digital Project Manager, stresses the importance of strategic leadership: "I'll be focusing in 2018 on ways that I can lead better – myself, my team and my projects."
As he says: "This starts by having a clear understanding of success – beyond cost, schedule and scope of a project, thinking more about project portfolio management and how to deliver on the strategic goals of our projects and demonstrate ROI.
As PM's we can be too focused on delivery at the expense of the strategy behind why we're doing what we're doing. By better understanding success, we can then inspire, motivate and lead the team with a clear unifying vision – we can help your team get hold of a vision and understand why they should care and how they can take ownership to be meaningfully involved."
Here's how Ben wants to accomplish his goal of that early on:
"Nothing motivates quite like success, so I'll be trying to get some early momentum on my projects and finding small victories to celebrate – it always does wonders in motivating the team, raising morale, and getting everyone pumped to be the best version of themselves."
4. Plan and improve retrospective sessions
For Shehryar Riaz, a Producer at UNIT9, planning Sprint Retrospectives is what he wants to be more diligent about in 2018.
"Projects I've worked on with a good Retrospectives and planning processes have generally led to better working habits and overall happier teams. It's extremely important to get and share feedback with one another" – says Shehryar.
"Not only do people feel more invested, since they can have input in how the project is run, but it also leads to more efficient and higher quality work. Learning from the past iterations is critical for planning the next one."
The importance of the Sprint Retrospective is also stressed by Krzysztof Łazarski, Project Manager at Apptension: "For me it's one of the most important meetings during the sprint. If I had to choose only one Scrum event and ditch the rest I would choose the Retrospective.
Giving and receiving feedback regarding the just-concluded sprint is the key to well working team and it helps build the team's sense of ownership and foster self-management."
5. Prioritize your duties
Working on many things at a time, tasks that may not be critical grab our attention.
As Mike Cohn, the author of 'Succeeding with Agile', 'User Stories Applied' and 'Agile Estimating and Planning', told us: "Next year I plan to focus more on the important things I want to accomplish rather than allowing myself to become distracted by the less important things that often distract my attention."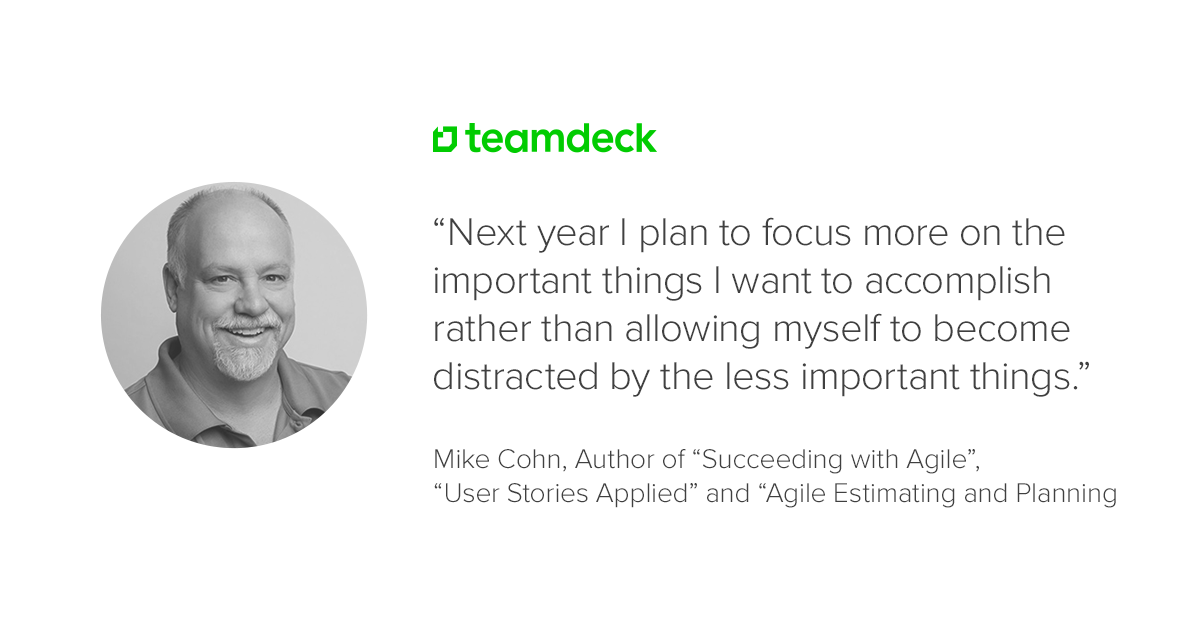 It's not about doing more, but doing it better: "I don't expect this to help me accomplish more, but I do expect this will help me accomplish more of the important work that I do for myself and the teams I serve."
6. Forecast project needs
"An important skill that I'm looking to continuously improve as a project manager is having foresight for project needs on all aspects of a production" – Shannon Kennedy, a Producer at Jam3, told us.
"Whether it's trying to forecast resourcing needs before they arise or trying to anticipate client requests, these things all affect my ability to efficiently deal with challenges as they arise throughout a project."
How does having a foresight for project requirements help?
"Being prepared right from kick-off helps identify gaps or concerns that might come up during production, and allows me to enter the project prepared and with solutions that are ready to implement" – explains Shannon. "This is definitely an ongoing skill that I'm looking to define and finesse, but an important one."
Over to you
Think about your career as a Project Manager. It's a perfect time to reassess what you've accomplished so far, and what is your goal for the upcoming months. Setting clear goals may help you achieve more or improve your work.
Do you have a resolution you'd like to share with us? Do tell us about it in the comments!